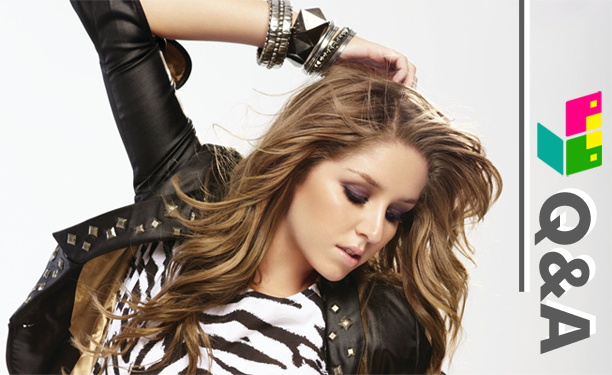 Before I get into it, let me just say... OMGWTFBBQ PINCH ME I MUST BE DREAMING *HYPERVENTILATES INTO HYSTERIA*
Okay then.
As my Twitter followers and Facebook friends might already know, I have been
stalking
keeping myself updated on the lovely lady that is Esmée Denters. For those who don't have the slightest clue about her, Esmée started singing her heart out on YouTube, until a gajillion people were watching her videos and POOF! Before we could even finish saying "OMG THERE'S THIS AWESOME SINGER ON YOUTUBE NAMED ESMÉE", Justin Timberlake already signed her to a very new Tennman Records, JT's very own label under Universal, and thus becoming its pioneer artist. From then on, the Dutch popstrel wrote and recorded her debut album
Outta Here
, which peaked at #5 on Netherlands' albums chart, and her single under the same name traveled around Europe, scoring a #7 on the UK chart, a #3 in Hungary, and sneaked in Ireland's top 20. Not bad, eh? My hands are shaking as I type this, so it's best I get on to our little interview.

Describe Esmée Denters in three words.
Silly, passionate, clumsy!
How does it feel like to be known internationally now when at one point in your life you were waiting tables and doing odd jobs?
It feels pretty good. Getting to do what I love everyday is a blessing. It also is a blessing for the people at the restaurant. I was a pretty bad waitress! LOL.
What do you miss most when you're away from the Netherlands?
Gouda!
How important are sites like YouTube and MySpace to aspiring artists?
It is very important for an artist because they can create their own fan base which is really powerful. It means that you no longer need a record label to discover talent.
For those who haven't heard your songs yet, what should they expect?
I have written most of the songs on the record so it's very personal. Some songs are about being a young girl taking charge and having a good time while others are a bit deeper were I show my vulnerable side. But overall I would describe it mostly as a pop/r&b record.
Is a second album in the works? Any details you might share with us?
I am definitely writing all the time. On the next album I want to be a bit more conceptual. I love experimenting with different styles of music. There are no limits in the studio. So the next album is definitely gonna be something special.
Which do you enjoy more: recording in the studio or doing a live concert, and why?
I love being in the studio writing and creating new songs. But I think I like performing even better. 'Cos that's when everything comes together. All the hard work pays off, and people get to experience what you have been working on for so long. Sharing that and seeing the people's reaction is priceless.
What can we expect from you in five years time?
You can expect that I am still around. There are so many things I still want to do. The limit's in the sky! I am interested in anything that has to do with entertainment. Maybe I will start acting or write a book. Who knows. But most importantly I want to make music that will continue to touch and inspire people for a long time.
COINCIDENTALLY (not at all), the physical CD release of
Love Dealer
featuring Justin Timberlake in the US is TODAY, so go buy it now!
You can also get the track
on iTunes
.
Image via esmeefans.org